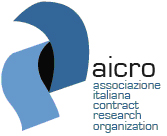 Website
Role of CVBF
Associate member
Description
AICRO is the Italian Association of Contract Research Organisation, founded in 2004 with the aim to ensure quality standards in the practice of clinical trials, promoting the use of GCP (Good Clinical Practice) and rele- vant regulations (GLP, GMP, etc.), as well as national and international guidelines, where applicable. AICRO collaborates with other authorities and recognized associations in order to further develop clinical research, particularly taking into account the benefit for the patients. The AICRO Clinical Trials Centers Working Group, in collaboration with several stakeholders defined criteria and guidelines for healthcare structures that wish to create an infrastructure supporting clinical trials conduction. The main achievement of this collaborative activity has been the release of a White Paper defining a Clinical Trial Center (CTC), giving recommendations for the setup of a CTC and the essential services to be provided. The AICRO Observatory Working Group is aimed to discuss/share the results of the implementation by Italian Medicines Agency of the new regulatory system and proceed with concrete actions to improve it and solve any issue highlighted during the test and training phase on its use.
Associate members
EMA – European Medicines Agency, EU Commission, FDA – Food and Drug Administration
Associate members
Appletree CI Group AG, CATO Europe d.o.o., CVBF Albania, Eurotrials, Klifo, OPTIMAPHARM Croatia, PCG Solutions AB, pH Associates, PHARMASICH , QPS Austria GmbH, Resbiomed Ltd, Richmond Pharmacology Limited, Sermes CRO
Partners
CD Pharma Group S.r.l., Covance Clinical Development S.r.l., Consorzio per Valutazioni Biologiche e Farmacologiche,  Dati & Ricerca S.r.l., Euromed Clinical Supply Services S.r.l., FULLCRO S.r.l., Icon plc, INC Research Italia S.r.l., IQVIA, LATIS S.r.l., LB Research S.r.l., Medical Trials Analysis Italys S.r.l., Medpace Italy S.r.l., PAREXEL International, PHARM – Pharmaceutical Research Management S.r.l., Phidealive S.r.l., PPD Italy S.r.l., PRA Health Sciences, Premier Research, PSI CRO Italy S.r.l., SCOPE INTERNATIONAL ITALY S.r.l., SynteractHCR Italia S.r.l., TFS Trial Form Support Italy S.r.l.