CVBF has significant expertise as Coordinator of several international projects and participates as Partner in many research projects funded by the European Commission with the aim to harness efficiency and delivery of research activities and services strengthening collaboration within the scientific community.
Alongside with the project activities, the progress, and outcomes of research pass also through the promotion of functional Networking activities within the scientific community. That is why CVBF is always proactive in favouring the collaboration and interaction with many scientific, clinical stakeholders as well as policy makers facilitating the transfer of the achieved know-how at different levels and leading to a strengthening of scientific excellence.
Thanks to its long-lasting experience in projects and initiatives CVBF enhanced networks of relevant stakeholders and collaborative partnerships.
European Joint Programme on Rare Diseases
The Special Issue "CVBF Active Involvement in the EJP RD", brief and extended versions, are available here.
The main objective of the European Joint Programme on Rare Diseases (EJP RD) is to create a research and innovation pipeline "from bench to bedside" ensuring rapid translation of research results into clinical applications and uptake in healthcare for the benefit of patients.
In addition, the programme is aimed to improve integration, efficacy, production and social impact of research on rare diseases through the development and promotion of sharing of research and clinical data, materials, processes, knowledge and know-how, and through an efficient model of financial support for research on rare diseases. The number of participating countries is 35 including 27 EU Member States (Austria, Belgium, Bulgaria, Czech Republic, Denmark, Estonia, Finland, France, Germany, Greece, Hungary, Croatia, Ireland, Italy, Netherlands, Latvia, Lithuania, Luxembourg, Malta, Poland, Portugal, Romania, Spain, Sweden, Slovakia, Slovenia, United Kingdom), 7 Associated Countries (Armenia, Georgia, Switzerland, Israel, Turkey, Norway, Serbia) and 1 non-EU Country (Canada). So far, the project brings over 130 institutions including research-funding organization, ERNs (European Reference Networks), European research infrastructures.
The programme is divided into four main Pillars: Funding of research, Coordinated Access to data and resources, Capacity Building, Accelerated translation of research projects and improvement outcomes of clinical studies. Moreover, the following transversal activities are foreseen by the programme within Pillar 0: Integrative Research Strategy, Communication, Sustainability, Ethical, legal, regulatory and IPR issues.
The project sees the participation of CVBF that brings the paediatric competences and expertise within work package 19 aimed to support the Rare Diseases (RD) community to more effectively translate high quality research into high impact interventions for the RD patient community, by creating a bridge between basic research and medical innovation, otherwise known as the "bench to bed-side" approach. To this aim, self-help resources and active project mentoring and technical support is provided to selected projects and CVBF contribute to provide paediatric self-help resources paying particular attention on paediatric projects to be assessed and supported within these activities.
Moreover, CVBF is involved in the monitoring process aimed  to  evaluate the quality of the EJP RD activities and the achievement of the expected project goals during the hole duration of the project  based on the periodic analysis of  proper indicators such as Key Performance Indicators (KPIs) and Key Result Indicators (KRIs).
Find out more in the EJP RD website.
CVBF activities in EJP RD
Creation of the Innovation Management Toolbox, a virtual library to provide self-help resources that is openly accessible to the RD research community, to be utilised by the WP partners and Innovation Managers to implement documents and guidance for projects supported within the EJPDR project itself.  The toolbox includes technical guidance (such as target validation techniques, use of molecular imaging for drug development, patient confidentiality and data handling, animal welfare, biorepositories, plus intellectual property management and contract templates), a project management manual, and regulatory guidance. Particular attention to regulation and resources to promote translational research in the paediatric field is given by CVBF.
Find out more about the IMT here.

c4c – Collaborative network for European clinical trials for children
The "conect4children" (c4c), an IMI-2 project, is composed of 43 industrial and non-industrial partners with the aim to deliver high quality clinical trials in children and young people across all conditions and phases.
The c4c consortium aims to enhance the competitiveness of Europe as a critical region for developing medicines for children by using existing expertise, patient access and developing common processes to be applied to disease natural history studies, registries, studies of new therapies and comparisons of existing therapies.
The consortium is a novel collaboration between academic and private sectors that includes 33 academic and 10 industry partners from 20 European countries, more than 50 third parties and around 500 affiliated partners.
The six-year project, comprised of a multidisciplinary public-private consortium, brings together key stakeholders across academia and industry. It is a pioneering opportunity to build capacity for the management of multinational paediatric clinical trials across Europe whilst ensuring the voices of children, young people and their families are heard. Strong links with regulators will be established.
CVBF is involved in the WP5 "Data coordinating centre and data quality standards" and has a relevant role in the delivery of training and education within c4c network being involved in the WP6 "Network Re­search Personnel Education and Training" as well as in the communication activities of the WP8 "Commu­nication, Dissemination, Exploitation and Impact Assessment".
Finally, CVBF is member of the Cross-cutting theme in charge of the patients' involvement in the project.
Find out more in the project website www.conect4children.org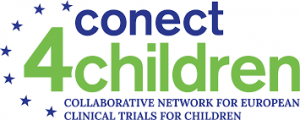 EPTRI – European Paediatric Translational Research Infrastructure
EPTRI is a new research infrastructure with the aim to speed up and promote the paediatric research in the field of discovery and development of paediatric drugs focusing on basic, preclinical, and translational research in the field of drug discovery, paediatric biomarkers and biosamples, developmental pharmacology, paediatric medicines formulations, medical devices and advanced therapies.
EPTRI has just entered in the Preparatory phase to reach its legal, financial and technical maturity, and is composed of more than 100 Institutions from 25 Countries, organising themselves in National Nodes and acting as service providers.
EPTRI is following its process of creation of the EPTRI-ERIC that will take some time. Meanwhile, to be able to undertake several actions as a legal entity, such as to participate in EU funded calls, apply for inclusion in public-private partnerships, Associations and Networks, it is creating an international non-profit organization under the Belgium law, called AISBL – Association internationale sans but lucrative.
EPTRI will provide three types of services:
Centralised services, which are: access to Document Repository and e-Libraries, scientific advice on preclinical and translational research, advice on translation to clinical phases, service for scouting of research funding opportunities, training and education;
Integrated services, provided by the research units and managed within the Thematic Research Platforms;
Common services, in collaboration with other biomedical RIs (to be defined).
EPTRI will bring a positive impact on the scientific community, by integrating the different research units within the new establishing RI, so to increase the scientific relevance of the paediatric research at international level.
EPTRI will bring together scientists, researchers, regulators, and industry to support smarter paediatric medicines development in an atmosphere of innovation and collaboration for the benefit of the patients, the life science, the economy and ultimately the society. It will also benefit children's and future generations' health as it will establish the framework to speed-up the drug development process in paediatrics including the top-level research innovations.

PedCrin
The Paediatric Clinical Research Infrastructure Network (PedCRIN) is a EU-funded project aimed to bring together the European Clinical Research Infrastructure Network (ECRIN) and the founding partners of the European Paediatric Clinical Trial Research Infrastructure (EPCT-RI) to develop capacity for the management of multinational paediatric clinical trials.
It arises from the awareness that more clinical trials are required to address specific needs of the paediatric population. Children do not often receive appropriate treatments since many medicinal products have not been adequately tested or authorised for them. Moreover, the paediatric population often responds to drugs and other therapeutics differently than adults do.
There are several scientific and operational challenges for conducting paediatric clinical trials. Additionally, non-commercial trials have to face many difficulties, e.g. lack of funding, inadequate infrastructure and lack of platform to facilitate collaboration and discussion.
The aim of PedCRIN is, therefore, to develop the necessary tools and capacity to enhance the quality, safety, efficacy and ethical standards of multinational, non-commercial paediatric clinical trials.
CVBF, as partner in collaboration with the TEDDY Network, will be responsible for the creation of tools specific for paediatric trials or for the upgrade of tools and databases, already developed by ECRIN for adult trials, to take into consideration paediatric specificities.
One of the main initiatives of the project is the launching of a call supporting the multinational extension of paediatric studies on medicinal products having already secured funding in the coordinating country and to select, based on scientific excellence and evidence for feasibility, multi-national investigator-initiated paediatric or neonatal interventional clinical studies on medicinal products.
More information on PedCRIN are available in the project factsheet and in the project website.