The paediatric research asserts itself in Europe as a sector of great interest. It was estimated that for the Paediatric Regulation's effect, the EMA (the European Medicines Agency), has launched about 800 new pediatric clinical trials that will require the involvement of 210,000 pediatric patients in the forthcoming years.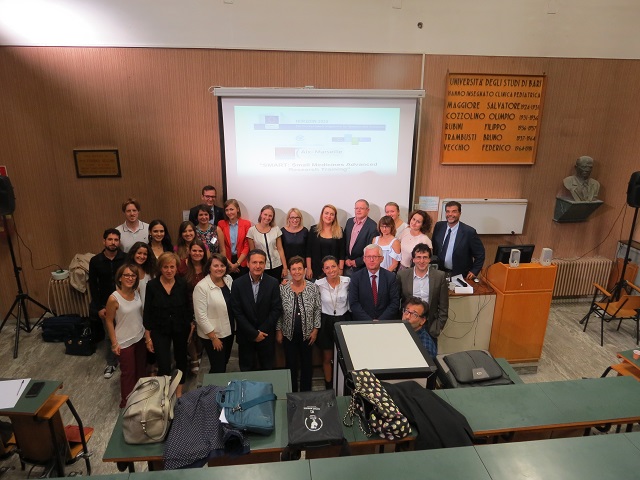 To meet this challenge we need resources, skills and alliances. Networks of research and infrastructures dedicated to pediatrics are being developed.
The pediatric medicines sector is becoming, indeed, increasingly important and will be driving in the next few years to the entire pharmaceutical industry. The real challenge is to make it a success field also at business level, resulting in new jobs in an innovative environment.
The Consorzio per Valutazioni Biologiche e Farmacologiche with the University of Bari, Department of Pharmacy and the Gianni Benzi Pharmacological Research Foundation have promoted the SMART project – Small Medicines Advanced Research Training – funded by the European program H2020, whose purpose is to boost knowledge and exchange of expertise covering all aspects of pediatric studies from ethics to methodology, innovative studies such as modeling and extrapolation, the production of ad hoc pediatric formulations.
SMART is a replicable and exportable interaction model, in which research, innovative enterprise and public administration work together to shape a smart development, sustainable and inclusive strategy to be applied to the development of pediatric medicines. SMART can benefit from the expertise of international experts from University College London and the University of Marseille.
The event, which takes place in Bari at the School of Medicine, University Hospital "Policlinico di Bari", Aula "Federico Vecchio", will be coordinated by Prof. Ceci and Prof. Loreto Gesualdo and will be attended by the Rector of the University of Bari, Dr. Agrimi of the Apulia Region, Dr. Vitangelo Dattoli, General Director of the University Hospital "Policlinico di Bari", the Confindustria BARI-BAT Health section President, Dr. Sergio Fontana and Prof. Marek Migdal, Children's Memorial Health Institute in Warsaw, Coordinator of the SMART project.