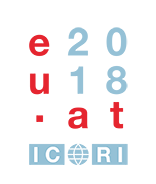 EPTRI, the European Paediatric Translational Research Infrastructure coordinated by CVBF, has been presented at ICRI 2018, the International Conference on Research Infrastructures (RIs). ICRI is a global event focused on international cooperation between RIs, that took place last September in Vienna.  Participants from more than 50 countries took part in the event, aimed to provide a forum for strategic discussion on international cooperation for research infrastructures at global level. The meeting provided the possibility to discuss the needs, development and current status of global and national research infrastructures as well as existing and emerging challenges faced by RI stakeholders.
This year, for the first time the new Paediatric Research Infrastructure EPTRI has been presented. EPTRI is European funded project aimed to create the framework for a new Research Infrastructure (RI) intended to enhance technology-driven paediatric research in drug discovery and early development phases to be translated into clinical research and paediatric use of medicines.
Further information about ICRI 2018 and the program is available at this link.