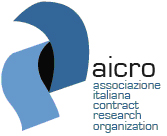 AICRO (Associazione Italiana Contract Research Organization) will organise the 5th Annual Conference on 11 October 2018 in Milan. The theme of this edition will be "Innovation, Globalization and New Regulations. "What are the opportunities to strengthen Clinical Research in Italy?" The event will represent the occasion to discuss, share and find the proper strategies to follow in Italy guidelines and criteria for the excellence clinical research.
Founded in Milan in May 2004, AICRO operates in the field of the applied clinical research and aims to ensure quality standards in the practice of clinical trials, promoting the use of GCP. (Good Clinical Practice) in clinical trials and relevant regulations (GLP, GMP, etc.) and national and international guidelines, where applicable, regardless of registration of the drug tested. Moreover, it intends to promote training for staff involved in clinical research and collaborate with other authorities and / or recognized Orders and Associations in order to further develop clinical research, particularly taking into account the safety of the drug.
For further information click here.