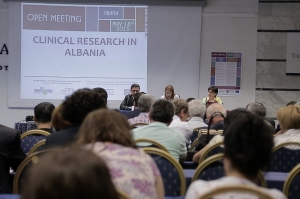 On May 18th, 2015 CVBF organised in collaboration with the University Hospital Center "Mother Teresa" (UHCT), an Open Meeting in Tirana with the aim to foster the clinical research in Albania and raise the attention on the importance of the European Networks to create synergies to spread excellence and attract European funding.
The meeting, promoted in the framework of the Eu-funded project DEEP (DEferiprone Evaluation in Paediatrics) was accredited by the Albanian National Centre of Continuing Education, QKEV and provided 101 participants with 5 CME credits for Continuing education for healthcare professionals.
The meeting, structured into 2 thematic sessions (Clinical Research in Albania and Networks and Projects in a Global Context), represented the occasion to discuss about many topics related to the conduction of paediatric clinical trials such as the barriers that researchers encounter to the timely development of safe and efficacious medicines especially for children, the related need to set up infrastructures for each study in each site, the collaborative efforts in medicine and research.
In particular, it was stressed the importance of the international cooperation in the activities performed in clinical research as a way to encourage interdisciplinary participation in developing solutions through high-impact, mission-driven collaborations with leading health providers, governments and educational institutions. In this way, the identification of the essential profiles involved in the concrete conduction of clinical research will be supported by the sharing of an high-quality and effective know-how, starting from the basis up to high specialisations proficiency.
All sessions were carried out in English, with simultaneous translation English/Albanian available. More details on the event and the related agenda are available here.
Here below you can find all the presentations:
SESSION I – CLINICAL RESEARCH IN ALBANIA
SESSION II – NETWORKS AND PROJECTS IN A GLOBAL CONTEXT