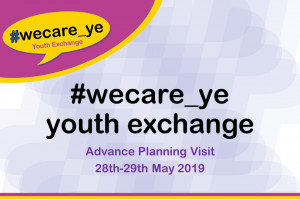 The activities of #wecare_ye project have been officially started!
On 28-29 May 2019, the Advanced Programming Visit (APV) took place in Bari at the Paediatric Hospital "Giovanni XXIII". The #wecare_ye project, coordinated by CVBF and funded under the European Erasmus + program, has the long-term goal to create four new Young Persons Advisory Groups (YPAGs) in Romania, Czech Republic, Greece and Belgium following the experience of KIDS Bari and KIDS Albania developed under the umbrella of the TEDDY Network, by fostering youth active participation (including young patients) in health promotion.
To achieve this goal, a youth exchange will be organized in July 2018 with the group leaders responsible for the setting up of the group and the youngsters, aged 13-18 years, that have been selected by each organisation involved among those involved in their local activities (young patients, patients' relatives, youngsters interested to health in general).
The group leaders of each country participated in this preliminary meeting in May in order to organise the main activities of the youth exchange and define the meeting agenda. Also, the members of KIDS Bari participated in the APV and presented some examples of activities carried out in the last two years, providing a witness of the potentiality of the group for improving clinical research in paediatrics.
For more information about YPAG, KIDS Bari and KIDS Albania please click here.