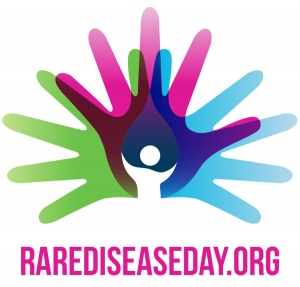 29 February 2016 marks the ninth international Rare Disease Day coordinated by EURORDIS. A call to solidarity and to the acknowledgement of rare diseases as a real problem, not to be dismissed under the veil of indifference.  On and around this day hundreds of patient organisations from countries and regions all over the world will hold awareness-raising activities based on the slogan "Join us in making the voice of rare diseases heard".
This year's theme "Patient Voice" makes reference to and tries to bring to light and public appreciation the efforts made by rare disease patients, by their families and friends, recognizing the crucial role that patients play in voicing their needs and in instigating change that improves their lives and the lives of their families and carers.
Since its launch in 2008 as an European initiative, this campaign has been successfully trying to draw the attention of both society and individuals, nations, governments and institutions to the matter of rare diseases, in order to intensify national politics relating to this subject and to heighten institutional standards of dealing with the challenges that a rare disease poses.
Rare Disease Day doesn't only appeal to peoples' conscience and states' resources but also encourages common strategies in research and healthcare which could lead to finding solutions for similar problems of each particular disease and hopefully to a better treatment and an improvement of quality of life for those who are affected. It is necessary to make aware the actors of the system, institutions, politicians, doctors, scientific community, pharmaceutical companies, healthcare and social professionals, in order to gather knowledge and resources to achieve results not only to discover new treatments, but also to improve the quality of life of patients and their families.
CVBF welcomes this initiatives by becoming a friend of Rare Disease Day and showing its support on its official website.
We proudly join the "Rare Disease Day" manifesto and dedicate all our efforts to improve the healthcare system, also to search, test and provide better treatment and a better handling of these rare diseases.
For more information, please visit the official Rare Disease Day website.