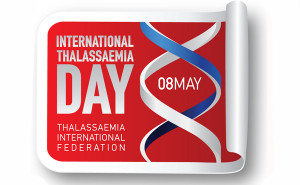 Even this year the International Thalassaemia Day will be celebrated on 8 May 2019, in honour of all patients with thalassaemia and their parents with the aim to raise awareness on this disease.  Despite the progress that has been attained in over the past decades, millions of people still lack physical or financial access to free-of-charge quality thalassaemia healthcare services. In occasion of this event, the Thalassaemia International Federation (TIF) has organised 3 online competitions (a video challenge, a photography contest, and a story challenge), inviting the global thalassaemia community to submit videos, stories and photographs (or collages).
The International Thalassaemia Day 2019 will be the occasion to discuss also the importance of the ad hoc studies in paediatric populations for the development of drugs specific for children affected by Thalassaemia.
Consorzio per Valutazione Biologiche e Farmacologiche (CVBF), as DEEP (DEferiprone Evaluation in Paediatrics) Coordinator, strongly supports this initiative and keeps on being proactive in promoting the research in the field of Thalassaemia.
DEEP (DEferiprone Evaluation in Paediatrics) was a 6-year European project funded by the European Union's 7th Framework Programme for Research and Technological Development, with the aim to study the efficacy and safety of deferiprone (the first oral iron chelators developed in Europe) in children affected by β-thalaessemia major and other transfusion dependent haemoglobinopathies.
In particular, the Project included three studies aimed to evaluate the pharmacokinetics (DEEP-1 study), efficacy/safety (DEEP-2 study) and long-term safety (DEEP-3 study) of deferiprone in this specific patient population, in accordance with the Paediatric Investigation Plan (PIP) approved by the EMA Paediatric Committee (PDCO). The research activities involved 16 European and non-European partners (including hospital centres, universities, companies and research associations) and comprise 23 recruiting centres in EU (Cyprus, Greece, Italy, United Kingdom) and non-EU countries (Albania, Egypt, Tunisia).
With the enrolment of more than 600 children in the three clinical studies, the Project provided the scientific evidence to support the use of DFP in paediatric patients. On the basis of the obtained findings, a Paediatric Use Marketing Authorisation (PUMA) of the new formulation of deferiprone will be submitted by the marketing authorization holder (ApoPharma Inc.).
More information on the event are available here.