Also this year the Gianni Benzi Pharmacological Research Foundation organises the Foresight Training Course entitled 'EUROPE LEADS THE BEST MEDICINES SYSTEM FOR PATIENTS', at its ninth edition now.
The Gianni Benzi Foundation is a not-for-profit scientific research organisation with the mission to uphold the ideas and continue the work of Professor Gianmartino Benzi in the fields of pharmacological research and regulatory science in Europe and in the promotion of an ethical and safe use of pharmaceutical products, including the fight against doping.
The Course, promoted in collaboration with the Master in "Regulatory Sciences – G. BENZI" (University of Pavia) and the TEDDY Network – European Network of Excellence for Paediatric Clinical Research, will take plac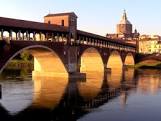 e from October 27th to October 29th 2016, at Collegio Fratelli Cairoli (Pavia, Italy).
The Ninth Course is aimed to provide a special acknowledgment to Prof Gianni Benzi for his significant contribution to the European Medicines System setting up and implementation with special reference to fields in which Gianni Benzi was particularly involved. The main topics of the Course will be:
EM(e)A scientific, economic and social role,
Orphan and Innovative therapies,
Paediatric Medicines,
Evidence, risks and benefits from drug uses,
Patients' role and contribution.
This 3-day meeting will host key opinion leaders and experts coming from different European- and non-European Countries and, as the previous editions, will represent a good opportunity for academy, companies, regulatory experts and investigators to debate and discuss the main current issues on regulatory sciences, and for students to learn about best practices and interdisciplinary collaboration.
Here you can download the registration form for the IX Foresight Training Course; once filled in, please send back the forms to [email protected].  Post-degree master students benefit of a special fee.
Here you can download the meeting brochure.
For any information about the course please contact:
VIVIANA GIANNUZZI – [email protected] • tel. +39 080 202 11 69 (SCIENTIFIC SECRETARIAT)
ROSY PIAGGIONE – [email protected] • tel. +39 080 202 11 69 (LOGISTICS AND GENERAL ORGANISATION)