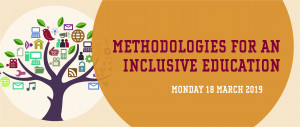 The Italian multiplier event, foreseen in the framework of the SPASD (Strengthening the Capacity of Professionals Working in Schools with Children and Young People with Autism Spectrum Disorder – ASD) project took place on 18 March 2019 at the University of Bari "A. Moro" and was focused on the "Innovative methodologies for an inclusive education".
SPASD is an international project funded within the European Programme Erasmus+  and arose from the willing to offer equal opportunities to children with ASD, as a main concern in all the countries involved in the project and also as an answer to the recent EU and national policies promoting equal possibilities in accessing education for all children and fostering the integration of children with disabilities into the general education system. To reach the project objectives, a e-learning course has been developed and distributed in the four countries involved in the project (Romania, Italy, Poland, Netherlands). The course addresses topics aimed to increase competences and skills of teachers which do not only concern providing high quality and inclusive classroom teaching but also providing support in the transfer of capabilities from school to community life for students with ASD and in building a partnership with parents in educating the child.
In order to ensure dissemination of the information regarding the e-learning course among school headmasters, school inspectorate representatives, NGOs, press representatives, four multiplier events have been organised in each country involved in the project. Information regarding the content and knowledge provided by the e-learning course, condition for accession and registration, number of teaching hours provided, were provided to the participants in the Italian event, that was also the occasion to discuss and increase awareness on the importance of the inclusive education and the enhancement of differences in the classroom.
The course is free and available on the online platform.