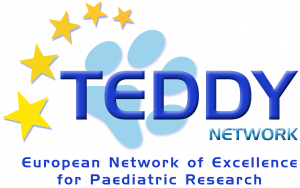 Website
Role of CVBF
Coordinator
Description
TEDDY is a scientific independent multidisciplinary and multinational network including 50 members from 20 EU  and non EU-countries, aimed to favor the integration of the paediatric pharmacological research activities and address the most important needs of the paediatric research. It is arisen from the FP6 funded Task-force in Europe for Drug Development for the Young and in 2017 has acquired an autonomous legal status allowing the Network to be fully represented and consolidated in the paediatric research community framework.
TEDDY is a category 1 network member of Enpr-EMA, the European Network of Paediatric Research at the European Medicines Agency and registered at ENCePP (the European Network of Centres for Pharmacoepidemiology and Pharmacovigilance).
The main objective of TEDDY network is to promote research on medicinal products in children providing methodological expertise and implementing good practices, Standard Operating Procedures (SOPs) and tools to plan, design and perform clinical studies at national and international level. Thanks to the international recognition and the wide geographical representativeness, TEDDY is able to provide the paediatric community of: easy dissemination of relevant information; consultation on paediatric drug development issues; involvement in paediatric studies; documents and recommendations in the sector of paediatric study methodology.